Micro:bit v2
The new micro:bit V2 is the latest revision of the classic micro:bit . Conceived by the BBC to encourage children to get actively involved in writing software and building new things that will be controlled by it . V2 is the same size, shape, and it works in the same way as the original micro:bit. So, if you have used the original then this will be instantly familiar to you .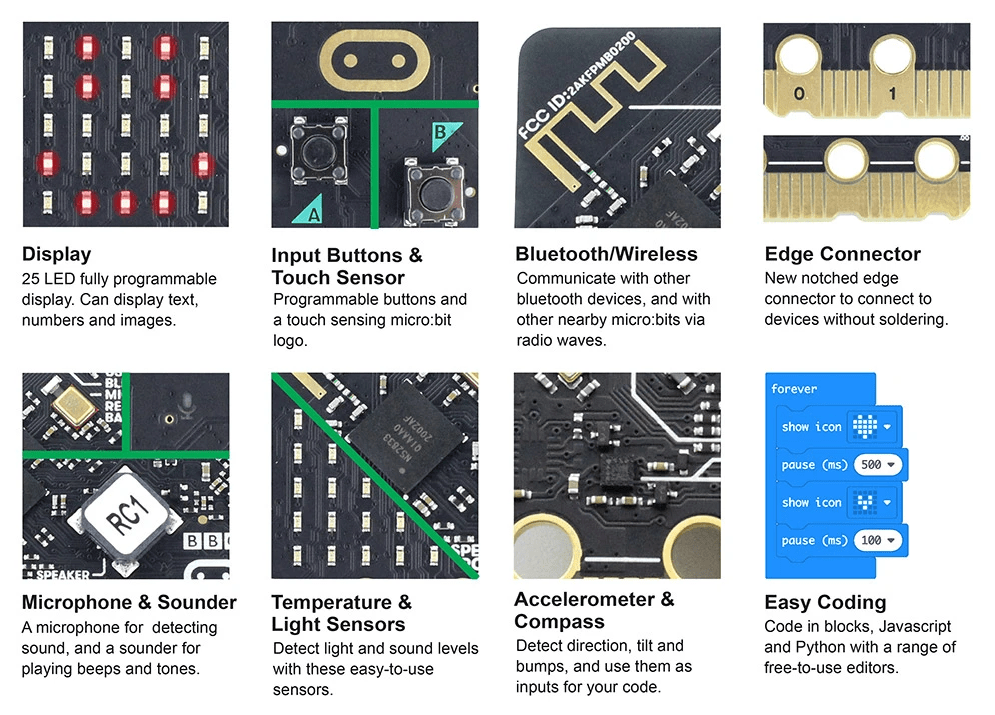 New Features
micro:bit V2 is in tune with its surroundings, thanks to an impressive array of onboard sensors. The micro:bit can detect movement in 3 directions . This allows you to tackle projects such as movement triggered alarms, turning the microbit into a tilt-type controller . It has a built-in compass so the microbit will always know in which direction it is facing. It can also detect changes in temperature and light level .Light levels can either be displayed on the LED matrix or used to trigger other events in your project . The new microphone can be used to monitor the ambient sound .
USB, Radio, serial, and Bluetooth Low energy connectivity.
A Compass and Accelerometer.
2 x user-assignable buttons.
A fully programmable 25 LED display.
25 pin notched edge connector.
Onboard speaker.
MEMs Microphone with LED indicator.
Touch-sensitive logo.
Light level sensing.
Temperature sensing.
Built-in sleep/off mode allowing the board to be powered-down with batteries connected.
A discrete regulator that can supply up to 200mA of current to external accessories.
Power status LED and USB data transfer LED.
Dimensions: 52x42x11.7mm.