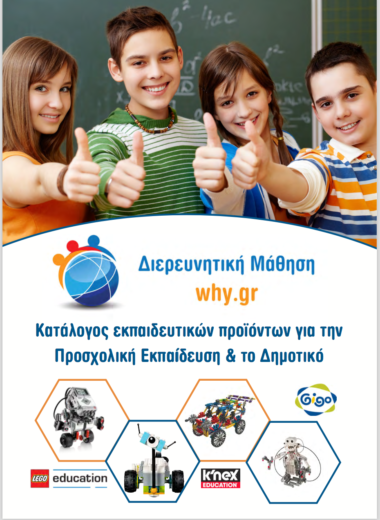 Όλα τα προϊόντα σε ένα κατάλογο.
Δείτε τον κατάλογο μας:
Βρείτε τα κορυφαία εκπαιδευτικά παιχνίδια
Sale
This set is based upon the latest science standards and was created to enhance students' curiosity and science skills. The set is delivered in a storage bin along with sorting trays, labels, a Smarthub, a Medium Motor, Motion Sensor, a Tilt Sensor, and enough building elements for two students.
Τα πάντα για τα παιδιά
Παιχνίδι και βιωματική μάθηση
Η βιωματική μάθηση αποτελεί έναν εναλλακτικό τρόπο εκπαίδευσης που επεκτείνεται πέρα από τα θρανία, τα σχολικά βιβλία, τη μετωπική διδασκαλία και την απομνημόνευση της " ύλης".
Στόχος της είναι να φέρει τον μαθητή σε άμεση επαφή με το αντικείμενο μάθησης, μέσα από την έρευνα, την εργασία πεδίου, την παρατήρηση, τις συνεντεύξεις, τα παιχνίδια ρόλων.